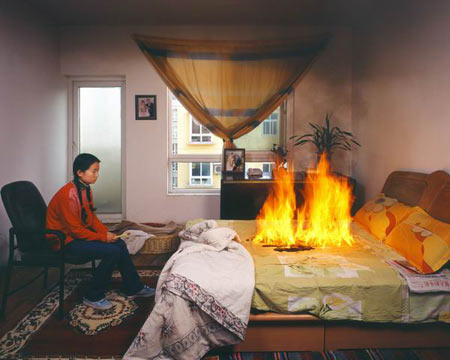 ©Liyu + Liubo
I am feeling home sick since I have not been back to China for a while, but I am going home in two weeks.  I am so extremely excited!  I spent a few weeks to plan out my trip in China, will stay half the time in hometown Shanghai, and then trying to squeeze 4 destinations into another tight 15 days.  So if you are in Beijing北京, Hangzhou杭州, Suzhou苏州, Guiyang贵阳 and of course Shanghai上海, and would like to meet or sit for a portrait, please email me.  
For the last few year, I had an interesting way to learn about the changing of China through photography.  Many western photographers had gone to China, document the booming land with a foreign perspective.  I can't help to notice that only very few Chinese photographers have chosen to point their lens to the landscapes of China, most of them are more interested in the people, life-style and politics.  This is also my first time back home as a photographer, I will give a lecture/workshop in universities and have small gatherings with other artists in China.  
Last night I read a shocking news of the rice shortage in China, no joke, that has never happened, even when we don't have enough pork, I still had rice.  I guess time has really changed.